Top 35 Short Inspirational Quotes For All Your Motivational Needs
I have come up with 35 uplifting short inspirational quotes and sayings to serve your motivational and self-development needs without consuming much of your time.
I love quotes. Of course, who doesn't? Right!
No matter how joyous, depressed, unmotivated, low-spirited i am feeling, i always rely on quotes to cater all these needs of mine. For me, they are really like the wisdom that is simply delivered.
There is rarely anyone who doesn't love to read awesome quotes and famous saying, but in our ultra busy schedule we often struggle to take out time for ourselves and we are always left short of 'Chicken soup' for our soul.
Without wasting any moment, let the words of wisdom traverse through you.
Here are some short inspirational quotes to skyrocket your motivation:
1. Life isn't about finding yourself. Life is about creating yourself. George Bernard Shaw
2. The bird is powered by its own life and by its motivation. A.P.J Abdul Kalam
3. Money was never a big motivation for me, except as a way to keep score. The real excitement is playing the game.  Donald Trump
4. I can accept failure, everyone fails at something. But I can't accept not trying. Michael Jordan
5. I couldn't find the sports car of my dreams, so I built it myself.
6. Success is not final, failure is not fatal: it is the courage to continue that counts.  Winston Churchill
ALSO READ: 60 FINEST INSPIRATIONAL QUOTES ABOUT LIFE AND STRUGGLES
7. What drives success, and the most successful students, is internal motivation. Vivienne Ming
ALSO READ :- Top 25 Kick-ass motivational quotes for students
8. But man is not made for defeat. A man can be destroyed but not defeated.  Ernest Hemingway
9. A champion needs a motivation above and beyond winning.  Pat Riley
10.  Too many of us are not living our dreams because we are living our fears. Les Brown
11. Reality is wrong. Dreams are for real.  Tupac Shakur
12. Let us make our future now, and let us make our dreams tomorrow's reality.  Malala Yousafzai
13. The power of imagination makes us infinite. John Muir
14.  A dream doesn't become reality through magic; it takes sweat, determination and hard work.  Colin Powell
15. All you need is the plan, the road map, and the courage to press on to your destination. Earl Nightingale
ALSO READ:- "SELF" engine optimisation- To land you on life's first page
16. A smile is happiness you'll find right under your nose. Tom Wilson
17. Gratitude is the fairest blossom which springs from the soul.  Henry Ward Beecher
18. I do believe that if you haven't learnt about sadness, you cannot appreciate happiness. Nana Mouskouri
19. There is only one happiness in this life, to love and be loved. George Sand
20. Keep your face always toward the sunshine—and shadows will fall behind you. Walt Whitman
21. Love is when the other person's happiness is more important than your own.  H. Jackson Brown Jr. 
ALSO READ: 43 MOST FUNNY QUOTES ABOUT LOVE AND MARRIAGE YOU WILL EVER READ
22. I have not failed. I've just found 10,000 ways that won't work.  Thomas A Edison
23. Joy is prayer; it is strength: joy is love; joy is a net of love by which you can catch souls. Mother Teresa
24. Happiness lies in the joy of achievement and the thrill of creative effort.  Franklin D Roosevelt
25. Self-belief and hard work will always earn you success. Virat Kohli
26. Success isn't always about greatness. It's about consistency. Consistent hard work leads to success. Greatness will come.  Dwayne Johnson
27. There are no secrets to success. It is the result of preparation, hard work, and learning from failure. Colin Powell
28. Some people dream of success, while other people get up every morning and make it happen. Wayne Huizenga
29. A man who dares to waste one hour of time has not discovered the value of life. Charles Darwin
30. Work like you don't need the money, love like you've never been hurt and dance like no one is watching. Randell G Leighton
31. To live is the rarest thing in the world. Most people exist, that is all. Oscar Wilde
32. You get in life what you have the courage to ask for. Oprah Winfrey
33. In the end, it's not the years in your life that count. It's the life in your years. Abraham Lincoln
34. The most important thing is to enjoy your life – to be happy – it's all that matters.  Audrey Hepburn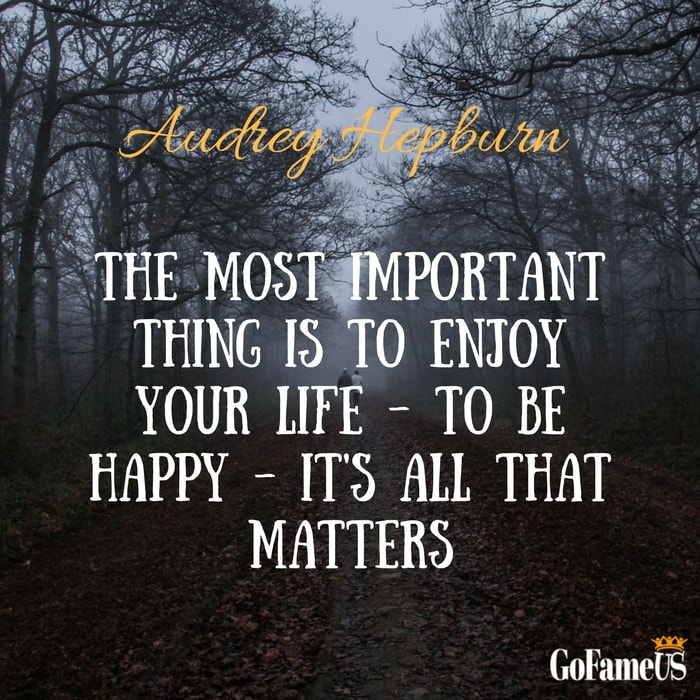 35. Your attitude, not your aptitude, will determine your altitude. Zig Ziglar
How do you like our collection of these short inspirational quotes?
Tell us in the comments below.