As a dedication to those of you who are undergoing a pain with long distance relationships and wondering if you need to hold on or would it work, here are some love-filled long distance relationship quotes that clear all your apprehensions. No matter what the distance is, we strongly feel that these quotes and messages will keep your love alive.
If you pay attention and notice, finding a relationship it's not the easy task and things don't end once you propose and you win the heart of your special someone. The real challenge is in maintaining the relationship and keeping the love alive between the two of you. And in today's lifestyle, we are all forced to move away to a different place or country to find a living to complement our visions and goals. And this often results in separation from our loved ones.
There are so many things you want to say to your long distance girlfriend/boyfriend, but nothing seems to like working out. As much as technology helps us in staying connected, there still seems to be a tinge of a concern in keeping the love alive from afar.
Long Distance Relationship Quotes for Him/Boyfriend
1. " Absence sharpens love, presence strengthens it." – Thomas Fuller
2. "It's not the distance that's the enemy, but the endless time I have to wait until I hold you in my arms." – Besski Levius
3. " I love when I reach Marcus on the phone and as he says hello, I can hear the music he's listening to in the background. That music is the sound of him without me. How he surrounds himself when I'm not there, which is almost all the time." – Megan McCafferty
4. " We are the perfect couple, we're just not in the perfect situation."– Unknown
5. " Just because things are not at their best right now does not mean that we should give up. Gold is tested in fire and something precious like love needs distance to be tested."– Olga Peters
6. " Some of the toughest things in this world are to really want someone and not have them around you. Those are the times when you don't know what to do. All you can do for is wait."– Tamara Louis
7. " Love is missing someone whenever you're apart, but somehow feeling warm inside because you're close in heart."– Kay Knudsen
8
.

" Love is the shortest distance between hearts."– Anonymous
9. " The distance maybe far and wide but my heart can cover them all. The space between us is so much more but you should know that I love you so!"– Linda Roy
10. " That farewell kiss which resembles greeting, that last glance of love which becomes the sharpest pang of sorrow."– George Eliot
11. " I can bear the distance but cannot imagine a life without you. For you I will go through the distance and the heartaches. You are my one and only."– Montana Lee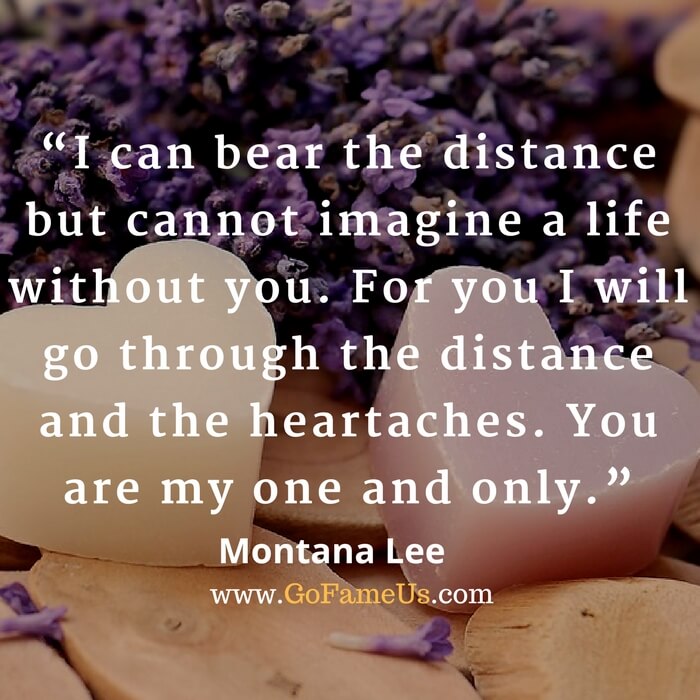 12. " If the only place where I could see you was in my dreams, I'd sleep forever."– Unknown
13. "And ever has it been known that love knows not its own depth until the hour of separation." –Khalil Gibran
14. "If distance were measured in terms of the heart we'd never be more than a minute apart." –Unknown
15. "Your absence has not taught me how to be alone, it merely has shown that when together we cast a single shadow on the wall." – Doug Fetherling
Long Distance Relationship Quotes for Her/Girlfriend
1. "The simple lack of her is more to me than others' presence." — Edward Thomas
2. " I don't cry because we've been separated by distance, and for a matter of years. Why? Because for as long as we share the same sky and breathe the same air, we're still together." – Donna Lynn Hope
3. "Absence is to love as wind is to fire; it extinguishes the small and kindles the great."– Roger de Bussy-Rabutin
4. "Waiting does not bother me, nor does the distance that is cropping up between us. All I want is a true commitment and to know that your heat will never change." – Ting Stores
5. "I hate the stars because I look at the same ones as you do, without you."– Anonymous
6. "Sometimes I miss you so much, I just want to rip you out of my dreams and hug you!"– Unknown
7. "Sometimes I just sit in front of the computer dreaming. I have food in front of me but no appetite to eat it. All because my heart misses you and my mind is dreaming about you."– Sandra Toms
8
.

"In true love the smallest distance is too great, and the greatest distance can be bridged."– Hands Nouwens
9. "I don't miss you and you alone – I miss you and me together."– Unknown
10. "Does distance really matter? You love your favorite actor, drool for your favorite singer and await patiently for the next art from your favorite artist or writer. Why not the one you love?"– Jane Morsel
11. "Behind every strong soldier, there is an even stronger woman who stands behind him, supports him, and loves him with all her heart."– Unknown
12. "Morning without you is dwindled dawn."– Emily Dickinson
13. "The thought of being with you tomorrow, gives me the strength to get through today." – Anonymous
14. "That is when time stands still – when you watch the one you love, walk away." – Mallika Nawal
15. "I fell in love with her when we were together, then fell deeper in love in the years we were apart." – Nicholas Sparks
So, what do you think? Reassuring right? Love is all about finding ways to be selfless and seeing your significant other happy. Why not plan a surprise visit and make his or her day? In a world that can be changed only by love and happiness, share these long distance relationship quotes to your friends who need to read this. You might fix a sinking relationship.
Peace and Love!